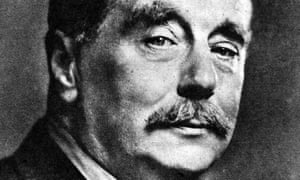 Here's a gothic tale for a stormy night: a man called Meredith converts a room in his house into a cluttered and untidy study, and one day asks a visiting friend if he can see anything strange on the ceiling.
"Don't you see it?" he said.
"See what?"
"The – thing. The woman."
I shook my head and looked at him.
"All right then," he said abruptly. "Don't see it!"
This is the beginning of a newly discovered HG Wells ghost story, called The Haunted Ceiling, a macabre tale found in an archive that Wells scholars say they have never seen before. It will be published for the first time this week, in
the Strand magazine
.
The story was discovered when Andrew Gulli, editor of the Strand, heard that the University of Illinois held a substantial archive of Wells's works. He promptly hired an assistant to photocopy hundreds of manuscripts and sorted through them to see if he could find something new.
"Initially, from the titles of the manuscripts, I thought I happened upon lots of unpublished works, but those thousands of pages were narrowed down to this delightful story," Gulli told the Guardian.
He called it "a vintage Wells story – you have a supernatural event, characters with two schools of thought on the event, [and] the literary type versus the scientist. This reminds me of his story The Red Room, but we have a more of a -
read more