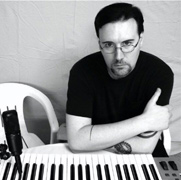 Martin is an electronic percussionist and composer of electronic/experimental and ambient music who started out as a gifted drummer at age 7 playing in talent shows, church bands and eventually his own bands. In his mid-twenties, Martin's instrumentals began appearing on several CD samplers from labels Ladd-Frith, The Music Independent, Priority, and AP. In the mid-90's Martin (with recording partner Aaron Kinney) was hired by The Alvin Ailey American Dance Theatre to score several pieces for the company and at the same time both his original and experimental bands Sandbox Trio and Casualty Park were signed to the Frank Mark Arts label in Germany. With that label he toured and recorded with both bands yielding several well received albums including many one-off and side projects with various artists. Sandbox Trio did many unique live shows and independent film scores and industrial TV commercials. The band utilized artfully handcrafted instruments combined with the latest in electronic and acoustic drums and has been Martin's favorite project through out his career. Sandbox Trio continued until the sudden tragic death of Chuck Ehlis in 2000 who was vital to the trio's sound creation and performance capabilities. Casualty Park was the duo of Aaron and Martin who created three albums, performed many live shows and together scored director Joe Carnahan's first feature film, "Blood Guts Bullets and Octane" in 1998. Casualty Park's electro-pop/rock music was also featured on the Oxygen Network with their video "West Texas" directed by Emmy Award winner Michael Maas. Martin and Aaron also scored original pieces for Complextions Dance Company directed by former Alvin Ailey choreographers Dwight Rhoden and Desmond Richardson. The bands both received very good press reviews and even the praise of Martin's idol, former Depeche Mode music director, Alan Wilder.
In 2005, Genre Peak was born as a trio including longtime bandmates Daniel Panasenko and Stephen Sullivan, with co-producer and recording engineer Christopher Scott Cooper.
The trio embarked on many live performances around northern California and San Francisco featuring Martin on lead vocals and electronic percussion, Daniel on Chapman Stick and Stephen Sullivan on guitar-synths and backing vocals. Ends of the Earth was Genre Peak's first album in 2006, but fell short of Martin's expectations receiving mixed reviews. While GP was a tight professional trio doing excellent recordings and gigs they disbanded in late 2006.
In 2007-2008 Martin, not wanting to sing lead vocals anymore and being the songwriter and director of the project, realized that Genre Peak would work better as a total collaborative project using guest musicians and singers including former Japan bassist Mick Karn, Canadian singer Tara C. Taylor, violinist Benito Cortez and bassist Gustaf Fjelstrom. Along with Stephen Sullivan and producer/guitarist Christopher Scott Cooper, with wonderful remixes from UK band Stereoskop and French band Kiss & Fly, Genre Peak's second album Preternatural was a much more well received album garnishing good press reviews. A video for the album track Hell on the Surface was showcased at the Sacramento Film & Music Festival. READ MORE-
http://www.genrepeak.net/GPabout.htm