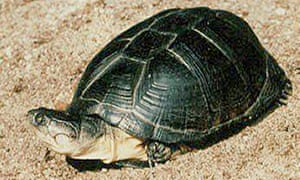 A missing turtle called Clyde has been safely returned to his aquarium in north-west England after a nationwide appeal.
Clyde, a 20cm mud turtle, was taken from his tank at the
Blue Planet aquarium
in Ellesmere Port on Tuesday afternoon, Cheshire police said.
He was returned home on Wednesday after detectives circulated CCTV images of a woman accompanying a young boy who had apparently dived into Clyde's tank. The boy was seen carrying something suspiciously turtle-like under a jumper.
Clyde's keepers had warned that without proper care he could die.
Police said Clyde was returned to the aquarium by a group of people. No one had been arrested. "We are continuing with our inquiries," a spokeswoman said. "Clyde seems to be safe and well."
How and why Clyde was taken remains unclear. Before the turtle was returned, DS Rob Grantham said: "Our investigation has so far established that a young boy managed to get into the tank and remove the turtle. The boy was completely -
read more