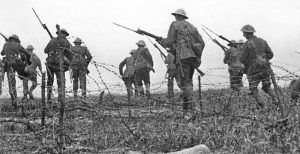 The Battle of the Somme started on July 1
st
1916. It lasted until November 1916. For many people, the Battle of the Somme was the battle that symbolised the horrors of warfare in World War One; this one battle had a marked effect on overall casualty figures and seemed to epitomise the futility of trench warfare.
For many years those who led the British campaign have received a lot of criticism for the way the Battle of the Somme was fought – especially Douglas Haig. This criticism was based on the appalling casualty figures suffered by the British and the French. By the end of the battle, the British Army had suffered420,000 casualties including nearly 60,000 on the first day alone. The French lost 200,000 men and the Germans nearly 500,000.
Ironically, going over the top at the Somme was the first taste of battle many of these men had, as many were part of "Kitchener's Volunteer Army" persuaded to volunteer by posters showing Lord Kitchener himself summoning these men to arms to show their patriotism. Some soldiers were really still boys as young as 16, and the majority of men going to battle had no idea what warfare entailed.
So why was the battle fought? For a number of months the French had been taking severe losses at Verdun, east of Paris. To relieve the French, the Allied High Command decided to attack the Germans to the north of Verdun therefore requiring the Germans to move some of their men away from the Verdun battlefield, thus relieving the French. After the war, Sir William Robertson, Chief of the Imperial General Staff, explained what this strategy was:
"Remembering the dissatisfaction by ministers at the end of 1915, because the operations had not come up to their expectations, the General Staff took the precaution to make quite clear beforehand the nature of success which the Somme campaign might yield. The necessity of relieving pressure on the French Army at Verdun remains, and is more urgent than ever. This is, therefore, the first objective to be obtained by the combined British and French offensive. The second objective is to inflict as heavy losses as possible upon the German armies."
Ironically, the head of the French Army, General Foch, believed that the attack in the Somme would achieve little – this view was shared by some leading British commanders such as General Henry -
read more